The Anchorman does it in style…-

By Ivan Alvis
Doing it in style…on the floor
Source : island
The Sri Lanka Anchorman is an English monthly tabloid very popular with the Sri Lankans, living in Toronto, Canada; and what makes this tabloid extra special is that its Founder, Publisher and Editor-in-Chief is a well-known journalist, from Sri Lanka – Dirk Tissera.
Dirk and his wife, Michelle, have always given their readers the very best of everything, not only with news, hot off the press, but also the opportunity for The Sri Lanka Anchorman readers to meet up and to get to know their countrymen, now domiciled in Canada, especially in Toronto.
Their most recent get-together event was The ANCHORMAN's May Spring Ball Gala Dinner Dance, held at the J & J Banquet Hall, Markham.
Reports coming our way indicate that the dance was well attended, with 320 guests enjoying a fabulous evening and dancing their hearts out to singing sensation Fahmy Nazick who belted out many memorable hits. His rendition of 'Unchained Melody' was just fantastic, according to guests.
Dirk Tissera and wife Michelle welcoming the guests
Fahmy was performing for the first time in Toronto, Canada, and he literally brought the roof down, they say.
Also adding glamour to the event was the band Black Jacks, saxophonist Mayuran and DJ Chami.
The bouquets that Dirk and Michelle received from those present are a clear indication that The ANCHORMAN's May Spring Ball Gala Dinner Dance was a fun-filled evening, that included baila competitions, door prizes and, of course, a sumptuous dinner.
Fahmy Nazick: First time in Toronto, Canada
And this is what some of the guests had to say…
*  Perry Tissa: Another memorable event. Well done Dirk and Michele and MC Des.
*  Shelagh Paul: Congratulations Dirk and MIchelle. Great show.
*  Theages Arumugam: Thank you Dirk and Michelle for another well organised evening. We all had a great time.
*  Ashala Fernando: It was an awesome evening. Glad we made it. Well done Dirk and Michael
*  Prabha Malwatta: Lovely evening with a lovely bunch of folks. We had an awesome time.
*  Barbara Felthman Paiva: Thank you Dirk and Michelle for sharing the photos. We had a good time.
*  Errol Byrde: Great event. We had a good time. The food was fantastic.
*  James Alagaratnam: Congratulations on another successful event, Dirk, Michelle and the rest of the organizers.
*  June Allidina: Overall, I would give it a 10 plus, plus. Waiting for the next dance!
And the next dance could very well be The Anchorman's New Year's Eve Ball…to usher in 2024!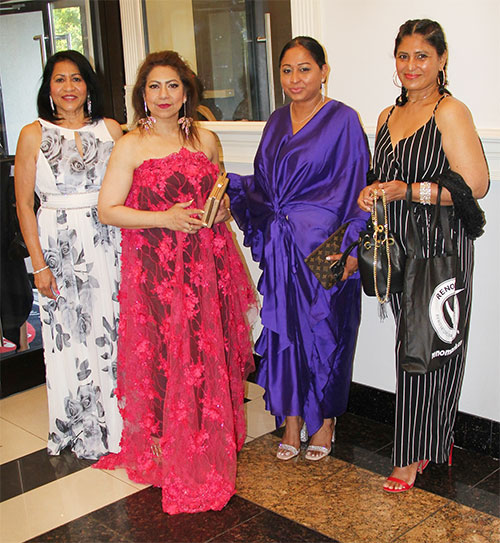 The glam scene at The ANCHORMAN's May Spring Ball Gala Dinner Dance