SL welcomes over 54,000 tourists in first 17 days –

By Charumini de Silva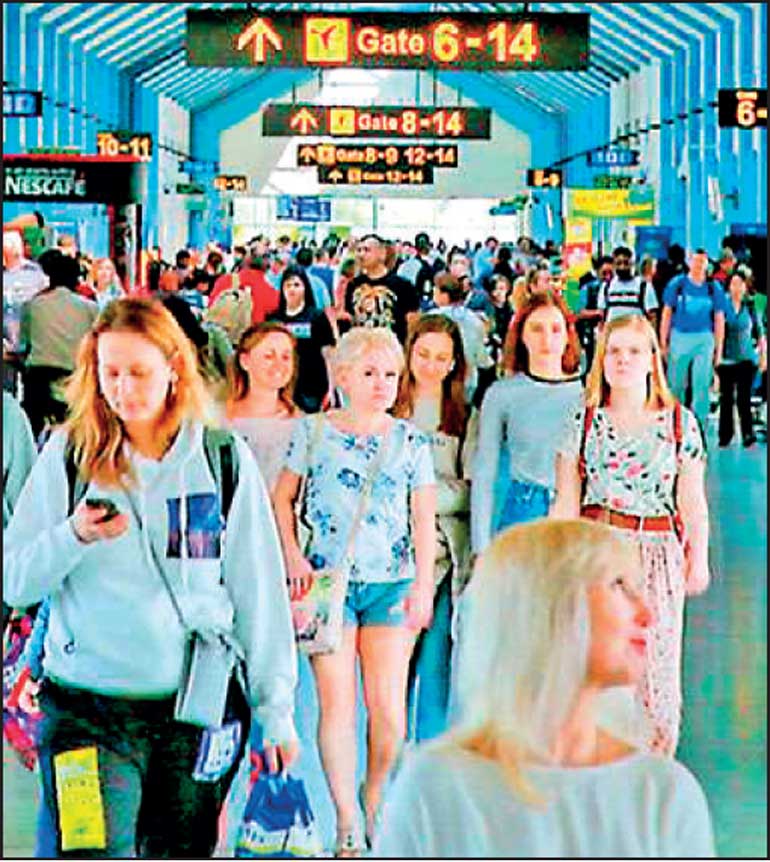 Source : ft
Russia maintains head-start over India, as top source market with a lead of over 7,000 tourists
Daily average arrivals pick up to over 3,200
Tourism Minister Harin Fernando anticipates arrival trend continues throughout 2023
Revises original income target downwards from $ 5 b to $ 2.88 b 
Says irrespective of IMF bailout Sri Lanka can bank on tourism for economic revival
Updates on COVID health protocol review meeting with MoH
Health Ministry expresses preparedness to face any COVID-related challenge 
Sri Lanka has welcomed over 54,000 tourists during the first 17 days of the month, propelled by Russian visitors.
With average daily arrivals topping 3,200, up from over 2,000 in December and the highest level since March 2022, the industry is off to a bright start.
"This is a great start for the year and we hope the trend of boosted arrivals will continue throughout 2023," Tourism Minister Harin Fernando told the Daily FT.
Sri Lanka has welcomed 54,615 tourists in the first 17 days of the month comprising 20,875 in the first week, 23,295 in the second week and 10,445 in the other three days, the provisional data released by the Sri Lanka Tourism Development Authority showed.
Russia continues to maintain head-start over India as the top source market with furthering the lead of over 7,000 tourists. 
Russia drew 13,970 or 26% of the total tourists, followed by India with 6,913 or 13%, UK with 4,446 or 8%, Germany with 4,435 or 8% and France with 2,623 or 5%.
Minister Fernando said Sri Lanka will likely meet its arrivals target of 105,000 for this month, whilst expressing confidence that the set target of 1.55 million visitors by end 2023 is possible with an income of $ 2.88 billion.
Originally for 2023, Sri Lanka Tourism set an ambitious target of 1.5 million arrivals and an income of $ 5 billion by attracting high-end travellers who spend over $ 400 per day from the current $ 200.
He also said irrespective of the outcome of the anticipated financial assistance from the International Monetary Fund (IMF), Sri Lanka can surely have faith in the tourism industry to boost the economy from the crisis.
"I am confident that we can make a leapfrog to growth from 2024 onwards," he added.
Updating on the meeting held with the Health Ministry officials on Tuesday, Minister Fernando said the MoH expressed their preparedness to face any challenging situation relating to COVID.
Last week, the Health Minister said Sri Lanka's entry status quo remains unchanged, adding statements pertinent to COVID will only be made under the MoH or Presidential Secretariat.
The announcement came hours after the Sri Lanka Tourism Development Authority imposed new health guidelines to all overseas arrivals to possess a vaccination card, and those who are not vaccinated should submit a PCR report obtained 72 hours before arrival.
Despite it being a 'crisis year' Sri Lanka ended 2022 with 719,978 tourists, up by 207% over 2021. Though missing the original target of 750,000 arrivals, the Minister said the provisional data shows that the earnings target of $ 1.2 billion was achieved last year.