Port City set to boost Sri Lankan economy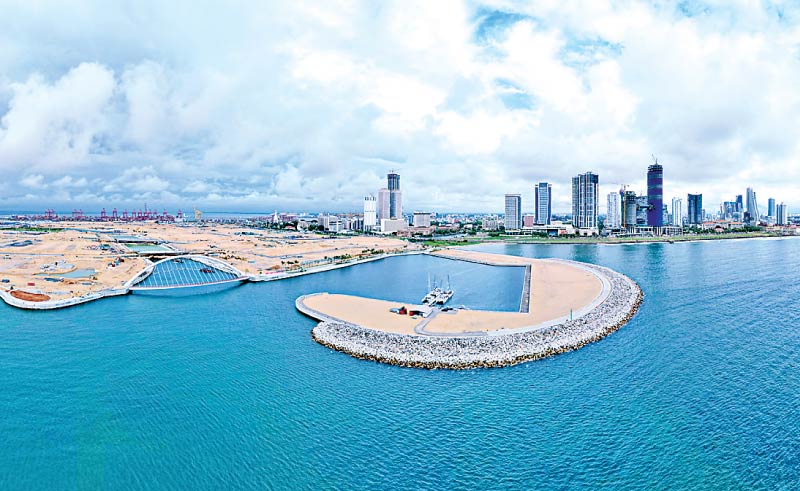 Source : ft
Over 140,000 direct job opportunities in the offing and contribute $13.8 b to Sri Lanka's GDP annually
Estimated fiscal revenue of $ 1.7 b is expected at construction stage while a recurring revenue of approximately $ 700 m per annum is expected at the operational stage of the project
Port City Colombo is set to reach its highest level of activity as the region's first multi currency, service export Special Economic Zone. The 5-year roll-out plan envisages $ 5.6 billion in FDI which will fast-track Sri Lanka's economic recovery, positioning both Port City and Sri Lanka as a leading player in the service export industry.
"Port City Colombo will help drive Sri Lanka's new phase of growth and will be a significant contributor to the country's GDP and BOP. Our focus will be to drive the future economy by attracting more green-field FDIs in key sectors while strengthening the country's competitiveness within the region," said CHEC Port City Deputy Managing Director Thulci Aluwihare.
Poised to be Sri Lanka's largest development project since the Mahaweli Development, Port City Colombo is expected to create over 140,000 direct job opportunities and contribute $13.8 billion to the GDP of Sri Lanka annually.
Spanning 269 Ha of ocean reclamation, Port City Colombo is Sri Lanka's first special economic zone dedicated for exports of services.  Established under the Colombo Port City Economic Commission Act No 11 of 2021, the Special Economic Zone was created to attract businesses engaged in global and regional trade, maritime services, banking and financial services, information technology, professional/ knowledge services, corporate headquarter operations, tourism and other ancillary services.
Since the commencement of the project, a contribution of $ 3 billion was made to the country's GDP, creating 12,000 direct jobs and training for 4,000 Sri Lankan workers across over 20 Sri Lankan sub-contractors. Land reclamation alone resulted in Sri Lankan companies providing over 5 million tons of stone, 12 million litres of fuel, 80,000 tons of cement and 1,200 tons of steel.
With Sri Lanka›s economic crisis prompting a mass exodus of skilled workers to relocate, Port City Colombo as a Service Export hub will open doors for global brands to set up within the zone with over 70% of employment created in modern services (PwC Economic Impact, November 2021).
The GoSL will see a significant increase in economic activity spurred by Businesses of Strategic Importance inducing multiple sources of fiscal revenue. An estimated fiscal revenue of $ 1.7 billion is expected at the construction stage while a recurring revenue of approximately $ 700 million per annum is expected at the operational stage of the project.
Port City Colombo's strategy will see it become a global centre for business and innovation, with a significant positive impact on Sri Lanka's economy. The Project is now seeing heightened interest from investors and businesses looking to establish a presence within Port City Colombo to access opportunities particularly in South-Asia as one of the world's fastest growing regions.